Hey everyone, my name is yaga. My blog is called "
The Shiny Bubble
".
I currently live in Switzerland and I write about my quest for a greener lifestyle, my adventures in arts and other ordinary stuff like the day we went out and had a huge
pillow fight
in the middle of the city. :o)
I love to have random and fun little adventures like this. They are not life changing - but they certainly are thrilling in their own way and will give you moments to remember all your life.
Here are my top five ideas for adventures that won't cost you a penny - and they are adaptable for the whole family!
1. Go on a scavenger hunt
Scavenger hunting was one of my favourite activities as a child and I still love to play it whenever I feel bored.
It is such a fun activity for people of all ages. For toddlers you can hide very bright toys in the backyard. Older kids love to go on the hunt for things that are on a list and put them in decorated bags or - if you trust them with a camera - take a picture of them. Older people go around their neighbourhood and town and try, for example to find all the letters of the alphabet in objects. There are so many tweaks to the topic that I could go on and on, but you will have your own ideas.
It can take all day and end with a picnic in the park, or you can make it shorter when the weather is not so good and then show off your treasures over a hot cup of cocoa. Of course, there's also indoor treasure hunts...
2. Build a fort
Another favourite memory from my childhood that I want to repeat again and again. Be it outside or inside, building forts and tents for no apparent reason is just fun, and if that's even possible then making it cosy and decorating it with bunting and fairy lights is even more fun.
My boyfriend thinks building forts is a bit silly and he closes the door to the living room when I'm at work. But he knows his job and when I'm finished there will be a big bowl of popcorn and a pitcher of homemade ice tea so we can cuddle up in the little house and watch a movie.
3. Go to a flashmob
Flashmobs are groups of people who assemble suddenly in a public place, perform an unusual and sometimes seemingly pointless act for a brief time, then disperse. They are mostly for fun, to confuse people or make them laugh, and generally to interrupt the treadmill of daily life.
They are sometimes a bit challenging (because you might do something that you would normally not do in public or in that certain place - it's about standing out and making people look, after all), they make you meet new people and look at a normal situation or familiar place in a new way.
Big flashmobs like the
International Pillow fight day
or
No Pants Subway Ride
are taking place at a certain date all over the world.
For smaller things you might want to see if there is a flashmob group for your area on facebook, or try to find a local group of
ImprovEverywhere
.
I have been organising a few flashmobs over the past couple of years and they have become increasingly popular, also for families with kids.
4. Have a nighttime picnic
Who says that picnics are only for sunshine? Even though we have seemingly tamed the darkness around us with lights and entertainment, it is still out there: The night is exciting! Once we go out there and embrace the experience, we will discover a whole new side of the world.
And how better to enjoy a starry night or even a full moon than with a nice nighttime picnic? Oh but take care not to confuse sugar and salt...!
5. Go geocaching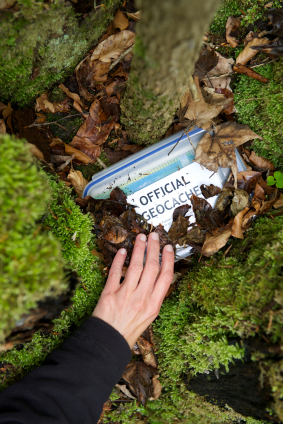 It is like a treasure hunt, except for the fact that no one has to organise the prize - it's already waiting for you, put there by the people who were there before. And you get the pleasure to put something there for those who will come after you!
If you don't have a GPS, try preparing your route with googleEarth - it takes a little more work in advance, but it works just as well!
Thanks so much to Amy for letting me guestpost for her wonderful blog, I really feel very honored! I hope I could inspire you for some little adventures of your own. I would love to hear from you if you have more ideas. There are so many things to do in our lives that are exciting and don't cost a dime. Embrace it!
Adventure is out there!
All pictures via Pinterest
Thank you so much to Yaga for guest posting for me! I love all of your ideas and the we will defianlty be building a fort when we return home!
Please do pop over and visit Yaga at
The Shiny Bubble
.