To those of you that have clicked on a like from my Twitter feed or facebook sorry this probably isn't the post you were thinking you were opening... It's just me banging on about sewing... again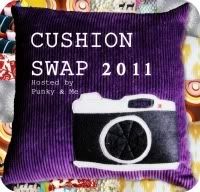 About a month ago I signed up to my first ever swap,
Punky and Me
is hosting a Cushion Swap and today I finally had the time to start AND finish my Cushion.
I am happy with the result. It is the first time I have made something like
this
so I was learning as I went. I just keep saying to myself that I am my own worst critic! I have everything crossed that my swap partner likes it!!!
P.S. Don't forget about my giveaway. Entries close Friday 20th of May...