Yay! It's Thursday again, which means two things.
The weekend is ALMOST here
It's time to peek into my creative space!
YAY!
This week I have been spending A LOT of time doing this
Why? Well I signed up for this
and this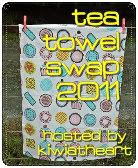 after I got the swapping bug from Vic's Cushion Swap and well I am a little lost as to what I want to make for both.
I am not even sure I want to make a tea towel as I have found some awesome vintage ones also.
I have been rambling, but for a reason.
I want YOUR help
. I need to stop doing this-
Please help me to think outside the box and shoot me through some links to something that takes your fancy. Something you would like to receive or something you would make or have made. I need
ALL
the help I can get!
THANKS SO MUCH!!!
Till next time
xx