Not much creative spacing happening here because we have been a holidaying...
But I have been knitting this scarf for Mahli
Excuse the polka dot Pjamas!
Please be kind, I am only new to knitting
www.oliveandme.com.au
but I am not happy with the tension so I think I will be doing some unravelling...
I am also looking for some inspiration for the Cushion Swap that
Punky and Me
is hosting.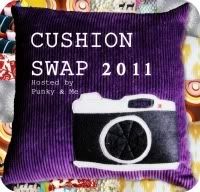 I received my swap partners details today and the whole thing is becoming all to real and I am getting scared that I won't be able to do justice to my swap partner... Do you have any ideas for me???
Well I am off to check out some more creative spaces over at
kootoyoo
. Won't you join me?